Okay time to share sumtin'..
Lets talk about mp3 music file. Me myself have thousand music (i love listening to full album rather than a single track) and for some people it was a trouble if they not so concern in arranging their music file. Some end up just let their music not categorize accordingly and most likely have a double mp3 file with same song. So how to solve this kind of problem? Well i would like to say start to keep it neat and tidy.. but that not what we will talk about in this post.
I am a kind of person who want their things arrange into systematic order (not entirely.. my room was pretty much a mess) which i want information in my music file tag shown correctly. Actually there is bunch of software that we can use to solve this kind of mess.
There is two type of tag editor:
Standalone Tag Editors
and
Built-in Tag Editors
So here is some quick information that might help you out.
----------------------------------------------------------
Standalone Tag Editors
----------------------------------------------------------
Support basic and extended tags, complete with Music Renamer and Tag Processor. Preview tags and cover arts from online database before saving.
Without normal windows menu.
//SCREENSHOT//
2. Mp3tag
★★★★★★★★★
Simple and clean design, show up existing tags with add and delete functions, customizable front panel, import and export tags, create playlists, online database lookups.
Lyrics column can be added in front panel with a multi-line option, but restricted to 6 lines and not extensible.

//SCREENSHOT//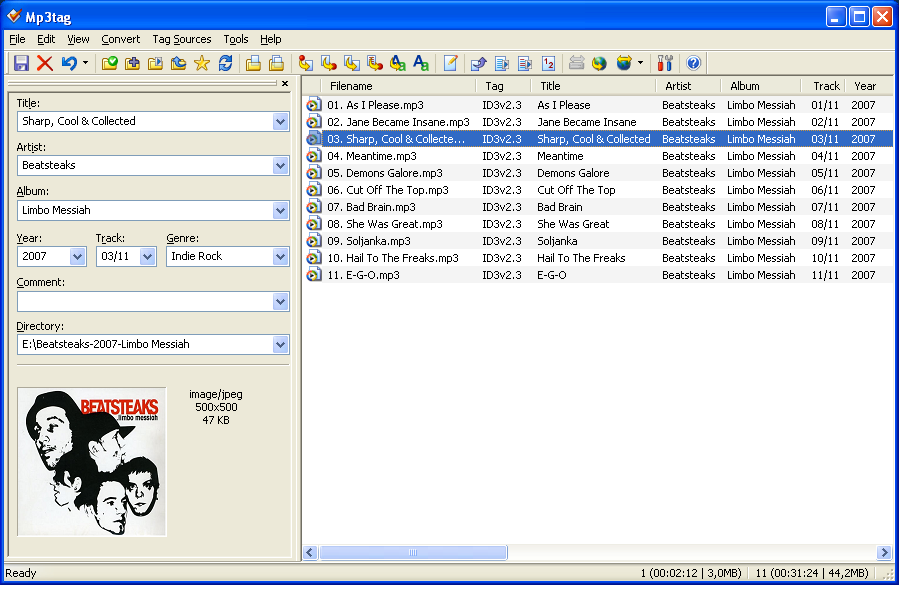 3. Kid3
★★★★★★★★
Edit all tags, generate tags from files or vice versa, import tags from databases, browse cover arts and lyrics from online resources, drag and drop cover art to a file, export tags, etc.
Lacking an overall view of tags in columns for all files in a folder.
//SCREENSHOT//

4. MusicBrainz Picard
★★★★★★★
Runs on multi platforms, identify track info by matching digital thumbprint with MusicBrainz database, show up existing tags with add and delete functions.
Cover arts not allowed to edit except updating from database.
//SCREENSHOT//

5. MetatOGGer
★★★★★★★
Configurable workspaces, tagging from scripts, filename and online database. Search for cover and lyrics, etc.
Supports for one cover art per file, searching tags from Database found not stable.
//SCREENSHOT//

6. MPTagThat
★★★★★★★
Auto tag of lyrics and cover arts from Internet, auto tag from file names, organize and rename files, case conversion, remove tags, execute scripts, etc.
Still under active development and subject to occasional handling errors.
//SCREENSHOT//

7. The GodFather
★★★★★★
Edit and show up to 4 pictures per album, search lyrics using Google, auto tag via online database.
Less successful search of tag info from Amazon. No Unicode support.
//SCREENSHOT//
----------------------------------------------------------
Built-in Tag Editors
----------------------------------------------------------
1. MusicBee
★★★★★★★★★
Auto tag by albums or tracks, look up album arts, lyrics and other tags from the web and save them into files, supports multiple images.
Tag editor must run with the player.
//SCREENSHOT//
2. MediaMonkey
★★★★★★★★
A player with a powerful built-in tag editor, user friendly, support basic and detailed tag info, auto tags from online database.
Auto tags from database is less powerful when compared to TagScanner.

//SCREENSHOT//
3. AudioShell
★★★★★★
A Windows Explorer shell extension, adds may columns to show tags in Explorer, editing basic tags, lyrics and album arts are allowed.
No auto tag from online database.
//SCREENSHOT//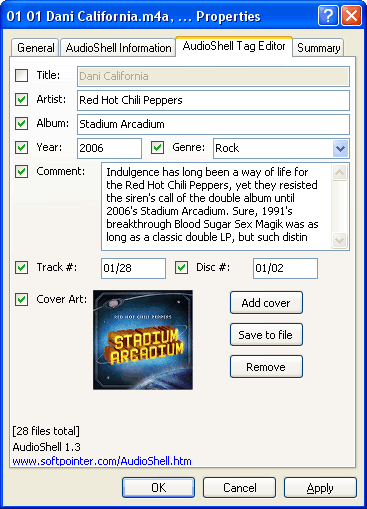 There is lots more tag editors out there all you need is discover it and use it but the easiest way to solve this problem is arrange it yourself. Do some digging so that you'll know much more information from the person that you listening to. You don't just listen to them you also have to learn about them and that how you honor their affort.
Caution: Any damages that cause by these software is not our responsibility. Use it on your own risk.
this amazing source brought to you by:
Gizmo's Freeware Reviews