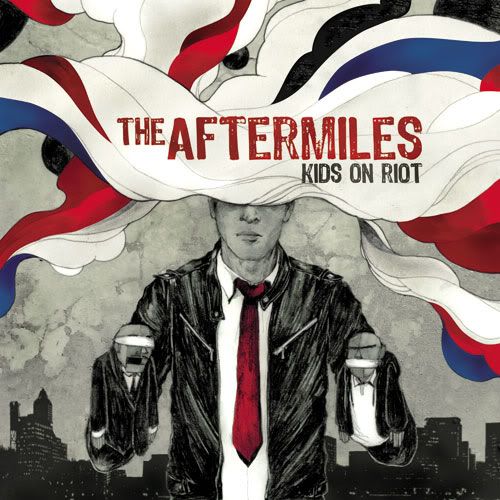 |CLICK PICTURE|

|THE AFTERMILES MYSPACE SITE|


Title: Kids on Riot
Label: Offbeat Records
Release: 2009
TRACK LIST
--------------
1. Dear All the Gang Leaders
2. Kids on Riot
3. Today
4. False Alarm
5. Sing Along
6. Saint a Fakin Sinner
7. And They Become Soldiers
8. A Goodnight Anthem
9. YYYeah!
10. And This We Sing
--------------
Actually i found this magnificent band when i was surveying artwork at deviantart then i was inpress by this artwork from
ykha amelz
so then check out her gallery and unintentionally knowing The Aftermiles.
--------------------------------------------------------------------------------------------------
Lahir dari sebuah perjalanan panjang akhirnya mempertemukan keenam personilnya dalam satu muara bernama The Aftermiles. Lagu "Today" yang terdengar sangat catchy mengantarkan mereka ke dalam sebuah kawah permusikan Indonesia yang belakangan produktif melahirkan band-band berkualitas. The Aftermiles yang banyak dikategorikan mengusung aliran British Indie Rock bisa dikatakan salah satunya. Apakah mereka mampu menyuguhkan sebuah karya yang dapat diterima oleh penikmat musik tanah air, dan bagaimana mereka melihat keberadaan musik lokal kini? Eddie, gitaris sekaligus pendiri band ini merespon dengan sangat baik pertanyaan-pertanyaan singkat yang dilontarkan rebelZine dengan jawaban yang cukup serius dan terkesan idealis. Berikut petikan wawancaranya. Enjoy!
Bagaimana awal terbentuknya The Aftermiles?
The Aftermiles terbentuk untuk pertama kalinya pada tahun 2001 di Vienna [Austria], dengan Eddie sebagai pendirinya, yang mengusung aliran alternative pop/rock [walaupun sekarang ini The Aftermiles lebih dikenal oleh publik sebagai band yang mengusung aliran British Indie Rock]. Saat itu, The Aftermiles dibentuk sebagai interpretasi lingkup interaksi kehidupan sosial yang dituangkan dalam lagu-lagu yang diciptakan. Eddie yang sebelumnya sempat direkrut untuk bergabung dengan beberapa band menemukan titik lelah dalam mengikuti konsep bermusik yang diketengahkan oleh teman-temannya, hingga akhirnya Eddie memutuskan untuk membentuk The Aftermiles sebagai tujuan terakhirnya dalam bermain musik, dimana Eddie berperan sebagai gitaris dan penulis lagu.
Di Indonesia sendiri, The Aftermiles untuk kesekian kalinya dibentuk pada akhir tahun 2006; dan setelah beberapa kali mengalami pergantian personil akhirnya menetapkan Eddie [guitar/backing vocals/songwriter], Yoga [guitar], Maulana [keyboards/synths], Andre [lead vocals], Andhika [bass], dan Kiki [drums] dalam formasi terakhirnya.
Mengapa The Aftermiles yang dipilih sebagai nama band kalian? Ada filosofinya!
The Aftermiles [yang jika diartikan secara mendasar berarti "setelah bermil-mil"] adalah naungan terakhir bagi Eddie [dengan harapan mewakili personil lainnya] untuk bermusik. Setelah sekian jauh berjalan, akhirnya The Aftermiles dibentuk dengan konsep sebuah cerita perjalanan panjang [dengan harapan tanpa akhir], dan dengan tujuan untuk di-sharing dengan audiencenya. Mungkin tidak ada filosofi yang spesifik dalam nama The Aftermiles; namun, satu hal yang bisa ditelaah lewat nama yang dipilih adalah sebuah pandangan dimana menentukan tujuan adalah salah satu dari sekian banyaknya sisi penting yang sebaiknya dilakukan dalam hidup. The Aftermiles adalah sebuah tujuan yang dipertahankan setelah sekian jauh berjalan dengan iringan cerita kehidupan, dan pemikiran-pemikiran sederhana akan banyak keinginan [minimal untuk para personilnya].
Apakah genre musik dari The Aftermiles?
Tidak ada label spesifik untuk jenis musik yang kita usung. Pendengar dibebaskan untuk mengkategorikan jenis musik kita secara individual, selagi kita mencoba untuk menghindari pengkotakan genre musik yang dikhawatirkan justru akan membatasi kapasitas kita untuk terus menulis lagu. Sejauh ini sebagian besar publik mengkategorikan jenis musik kita kedalam genre British Indie Rock [ada sebagian kecil dari publik yang berpendapat bahwa jenis musik kita adalah mixture dari musik Inggris lama dan baru], namun sebagian lain mempunyai pendapat yang terkadang justru tidak pernah hinggap di benak kita.
Lagu-lagu The Aftermiles bercerita tentang apa saja?
Tema-tema yang telah kita angkat sejauh ini bercerita tentang lingkup kehidupan sosial yang kita alami [baik dari penglihatan, perasaan, ataupun pendengaran]. Ada beberapa lagu yang mencoba untuk mengetengahkan rasa peduli kita terhadap hubungan antara masyarakat dan keadaan-keadaan yang harus dihadapinya [dalam "Saint a F**kin' Sinner" kita menggarisbawahi kekecewaan publik terhadap keadaan di sekitarnya yang tentunya selalu timbul tenggelam dimana saja]; sementara itu "Kids on Riot" adalah gambaran dari perhatian kita terhadap sikap-sikap keras yang diambil masyarakat, yang cenderung terulas dalam tindakan-tindakan yang bersifat anarkis [yang pada akhirnya justru menjadi kerugian bersama – dalam lagu ini kita mencoba untuk mengkikis etika saling menyalahkan, dan sebaliknya mengajak untuk berintrospeksi sebelum bertindak].
Tentunya pandangan dan pengetahuan kita sangat terbatas untuk berkomentar dalam lingkup seluas kehidupan. Disini kita hanya mencoba dan berharap untuk dapat diterima. Tidak selalu lagu-lagu kita mengandung muatan pendapat yang bersifat kritis; ada kalanya dimana kita ingin mengetengahkan sesuatu yang jauh lebih sederhana, seperti dalam lagu "Today" yang bercerita tentang satu hari yang abstrak dan tidak dapat diterka, atau dalam lagu "A Goodnight Anthem for a Better Tomorrow" yang merupakan rasa terima kasih kita dalam lagu yang kita dedikasikan untuk semua pihak yang telah menjadi katalis utama motivasi kita untuk bermusik, baik secara langsung maupun tidak.
Proses penciptaan lagu siapa yang paling banyak memberikan sentuhan?
Dari lagu-lagu yang telah kita rekam dan suguhkan, Eddie adalah pendasar dari sebagian besar lagu-lagu tersebut. Tetapi secara keseluruhan, lagu-lagu tersebut kita selesaikan bersama. Proses penulisan lirik dan aransemen lagu biasanya berawal dari Eddie secara akustik, kemudian dilengkapi aransemen penuh oleh Maulana. Final touch untuk lagu-lagu tersebut digarap bersama-sama. Album pertama kita nanti tentunya akan jadi hasil dari kerja bersama-sama, tidak terikat pada posisi penulis lagu atau arranger. Kita menginginkan adanya suatu keseimbangan dalam melangkah.
Dari lima lagu yang pernah saya dengar semua dalam bahasa Inggris. Tidak adakah niatan membuat lagu dengan lirik bahasa indonesia?
Kecintaan kita akan bahasa sendiri sifatnya mutlak, karena bagaimanapun juga kita berkomunikasi dengan bahasa Indonesia sehingga akhirnya terbentuk The Aftermiles, sampai dengan terciptanya lagu-lagu yang kita suguhkan. Menulis lagu dalam bahasa Indonesia adalah keinginan tersendiri yang sebenarnya kita sudah kita pendam. Lagu-lagu yang tersedia sejauh ini ditulis dalam bahasa Inggris karena mungkin kita belum sanggup untuk menulis lagu dalam bahasa Indonesia [di banyak waktu kita menemukan kesulitan dalam mengekspresikan diri dalam lagu berbahasa Indonesia], kapasitas kita sekarang ini terbatasi dalam menciptakan lirik berbahasa Indonesia. Keinginan untuk mengaplikasikan bahasa Indonesia ke dalam lagu selalu ada, dan mudah-mudahan akan menjadi proses belajar yang baik untuk kita.
Yang mudah-mudahan dapat diterima publik secara luas adalah harapan kita dimana cerita-cerita di setiap lagu yang disuguhkan dapat dimengerti sebagai cerita yang identik dengan keadaan Indonesia pada saat ini.
Adakah sesuatu yang baru yang ingin ditawarkan The Aftermiles [yang membedakan dengan band-band lainnya?
Mungkin jenis musik yang catchy namun tetap berpegang pada idealisme adalah sesuatu yang bisa kita suguhkan untuk publik. Sejujurnya, mungkin kita tidak bisa beranggapan bahwa apa yang kita tawarkan itu baru atau lama, karena banyaknya band-band yang muncul ke permukaan dengan karyanya masing-masing telah menciptakan sesuatu yang fluktuatif, bervariasi, dan tidak monoton. Justru kita punya harapan dimana lingkup kehidupan musik di Indonesia selalu bisa menghadirkan sesuatu yang baru bagi pendengarnya.
Kekuatan The Aftermiles yang paling menonjol?
Sekali lagi, kebebasan berpendapat secara individual adalah bagian dari prinsip yang kita pegang dalam bermusik. Yang jelas, kekuatan itu ada karena adanya dukungan dari banyak pihak yang telah menjadi bagian dari cerita kita. Kita berharap dapat memberikan bukti nyata bahwa musik lokal sedang mengalami proses perkembangan kearah yang positif. Mudah-mudahan kita dapat menjadi bagian dari perkembangan ini. Dengan pasti kami berharap untuk dapat membuktikan bahwa kualitas musik di Indonesia sama sekali tidak kalah dari kualitas musik dalam lingkup internasional.
Siapa musisi/band yang sangat berpengaruh terhadap musikalitas The Aftermiles? Lokal dan luar!
Sejauh ini publik mengenal The Aftermiles sebagai band yang ter-influence oleh band dan musisi dari Inggris; hal ini bisa kita benarkan karena band-band dan musisi tersebut memang termasuk dalam list konsumsi kita akan musik. Namun kita sebenarnya tidak membatasi diri dengan hanya mendengarkan band-band dan musisi dari Inggris saja; apa yang menjadi selera kita sedikit banyak akan mendatangkan impact dalam lagu-lagu yang kita ciptakan. Jika harus dimasukkan ke dalam sebuah daftar, maka akan never ending jadinya, karena koleksi masing-masing dari kita juga bertambah sejalan dengan waktu.
Eddie: influence saya pribadi dalam menulis lagu justru datang dari musisi-musisi yang menyuguhkan musik sederhana; ada kalanya saya mereferensikan diri terhadap musik-musik lawas seperti Otis Redding [US singer/songwriter] ketika menulis lagu. Musisi-musisi lain seperti Etta James, Frank Sinatra, Johnny Cash, dan Bob Marley pun tidak luput dari pendengaran saya. Walaupun karya musik mereka cenderung jauh dari jenis musik yang disuguhkan oleh The Aftermiles, namun saya tidak dapat mengelak jika mereka dikatakan sudah menjadi pengaruh dalam lagu-lagu yang sejauh ini saya tulis. Sejujurnya, lagu-lagu lawas hasil karya musisi lokal Indonesian pun dapat dikategorikan sebagai acuan saya dalam menulis lagu. Walaupun pada akhirnya sulit untuk mengidentifikasikan lagu-lagu The Aftermiles dengan jenis-jenis musik tersebut, namun pengaruh dan dampak yang saya rasakan juga tidak kecil [sekarang ini saya sedang "hunting" lagu-lagu dari penyanyi lokal kita, Ohsen Mulsin, yang terhitung sudah lumayan tua dan tertelan arus jaman]. Selebihnya, silahkan kalian telaah sendiri, siapa kira-kira yang menjadi pengaruh dalam musikalitas The Aftermiles, siapa yang tahu pendapat kalian justru bisa menjadi referensi baru untuk The Aftermiles.
Dengan siapakah The Aftermiles ingin berkolaborasi jika ada kesempatan?
Kita selalu menyimpan keinginan untuk dapat berkolaborasi dengan band-band lokal lainnya, dengan harapan untuk menjalin kedekatan antara satu dengan lainnya. Saat ini kita belum terlalu memikirkan tentang kolaborasi, karena kita pun masih dalam proses belajar dalam bermusik. Namun dapat dipastikan dimana kita akan selalu bersifat terbuka terhadap segala bentuk sharing in collaboration yang tentunya dapat menunjang proses berkembangnya The Aftermiles sebagai sebuah band.
Lagu The Aftermiles "Today" sempat bertengger di posisi teratas chart-chart radio lokal. Apalagi sempat menjadi icon A Mild Live Wanted. Bagaimana tanggapan kalian?
Tentunya kita merasa bersyukur atas tanggapan-tanggapan positif dari banyak pihak yang telah mendorong kita untuk terus bermusik. Mungkin artikel ini adalah kesempatan kita untuk mengucapkan terima kasih yang sebesar-besarnya; rasa terima kasih itu tidak akan pernah ada habisnya. Tidak lupa juga kita mohon do'a dan supportnya untuk terus bisa maju dengan musik-musik yang kami suguhkan. Kita akan selalu mencoba untuk tampil maksimal, memberikan bagian-bagian terbaik dari masing-masing untuk bisa terus bermusik.
Mengincar popularitaskah kalian karena itu? Beri alasan!
Kita punya keinginan untuk memperkenalkan diri terhadap publik tanpa batas. Popularitas tidak menjadi ukuran yang harus didambakan; namun kita ingin mencoba untuk menghilangkan jarak antara panggung dan audience. Jika popularitas itu akhirnya hanya akan menciptakan jarak antara kita dengan mereka yang sudah menyempatkan diri untuk mendengar lagu-lagu kita, maka istilah popularitas itu akan kita hindari! Dalam pengetahuan yang sangat terbatas ini, kita melihat bahwa popularitas yang identik dengan ke-eksklusifan hanya akan menjauhkan kita dari mereka yang sudah menjadi dampak besar terhadap eksistensi The Aftermiles sebagai sebuah band. Bagaimana kita bisa berterima kasih jika menjadi populer adalah dambaan? Kita hanya ingin berkawan. Kita tidak percaya akan istilah fans atau penggemar, kita hanya ingin melihat adanya interaksi antara The Aftermiles dan kalian semua sebagai sebuah bentuk persahabatan.
Eddie: saya punya satu impian dimana kita bisa jumpa langsung dengan mereka yang sejauh ini sudah sering memberikan pendapatnya, baik itu secara online, maupun dalam bentuk lain. Saya ingin kita semua bisa duduk sama-sama, dan berbagi cerita.
Bagaimana perkembangan musik tanah air menurut kalian?
Secara mendasar, perkembangan musik di tanah air telah menunjukkan titik-titik signifikan ke arah perubahan. Mungkin kita semua bisa mulai menelaah keadaan di sekitar dimana banyak band-band baru yang bermunculan dengan karakternya masing-masing; dan ini adalah sesuatu yang dapat dibanggakan, apalagi mendengar satu kabar bahwa beberapa dari band-band lokal [yang lahir secara independen] kini sudah dapat go international. Perkembangan ini merupakan sesuatu yang juga menjadi motivasi kita untuk bermusik.
Siapkah The Aftermiles berkompetisi di tengah maraknya band-band bagus yang bermunculan?
Kita tidak ingin terlibat dalam kompetisi yang ada dalam perkembangan musik di Indonesia. Sejauh ini merasa cukup bersyukur telah menjadi bagian dari perkembangan musik yang ada, dan kita selebihnya berharap untuk bisa berkontribusi dalam perkembangan yang mudah-mudahan akan terus berjalan. Jika kompetisi ini pada akhirnya hanya akan menobatkan beberapa pemenang, dan meninggalkan lainnya sebagai yang gagal, maka akan sulit untuk mempertahankan perkembangan yang sedikit banyak dapat dinilai positif sejauh ini. Kita ingin berkontribusi, tetapi tidak berkompetisi.
Menurut The Aftermiles, seperti apa kiranya sebuah band bisa dikatakan berkualitas? Apa indikatornya?
Eddie: sangat sulit untuk memilah antara yang berkualitas dan yang tidak berkualitas. Tidak ada etika spesifik dalam bermusik [music has no ethics]; kebebasan dalam bermusik seharusnya tidak membatasi musisi untuk jatuh ke dalam suatu paham kualitas, yang jika ditelusuri mungkin tidak akan ada habisnya karena banyaknya perbedaan dalam berpendapat. Setiap band memiliki kualitasnya masing-masing, dan tentunya sikap apresiatif dari publik akan menjadi faktor pendorong untuk mengembangkan kualitas yang mereka miliki. Dengan begitu, setiap band bisa dikatakan berkualitas dengan menghilangkan pemerataan dalam menilai masing-masing dari mereka; akan menjadi menarik jika mereka dapat menunjukkan karakter yang berbeda-beda tanpa adanya batasan-batasan yang kadang tidak beralasan.
Sudah ada kerjasama dengan label tertentu mungkin untuk rilisan pertama album The Aftermiles? Major label atau Indie label!
Sejauh ini kita masih bergerak sendiri tanpa adanya naungan major ataupun indie label. Tentunya kita tidak akan menutup kesempatan untuk bisa menjalin kerjasama, dimana ada hubungan yang bersifat mutual dalam kerjasama tersebut, dan dimana kerjasama itu tidak menghalangi kita untuk mengambil langkah yang lebih jauh lagi.
Lalu kapan rencananya album penuh kalian akan keluar?
Sejauh ini kita masih dalam proses persiapan, dimana kita belum bisa memberi kepastian menyangkut progress album kita. Untuk sekarang ini kalian dapat mendengarkan lagu-lagu kita secara online di www.myspace.com/aftermilesmusic. Kita akan selalu meng-update progress album kita pada setiap kesempatan yang kita dapat.
Rencana serta obsesi kedepan The Aftermiles selain merampungkan full album?
Kita ingin dapat berkontribusi lebih jauh lagi dengan memperkenalkan musik yang kita suguhkan ke lingkup yang lebih luas [mungkin secara internasional]. Mohon do'a dan dukungannya
untuk kita bisa terus melangkah, melanjutkan cerita kami, dan berbagi dengan publik!
teks & wawancara: zelva wardi/rebelzine
Source: http://rebelzine.wordpress.com/